Home modifications can help those with disabilities live independently and more comfortably. Many homes make it difficult for a person seated in a wheelchair to cook, bathe themselves, or perform other simple household tasks. If you are taking care of someone with a disability, there are many things you can do to eliminate potential obstacles that can interfere with daily activities. This can provide safety and peace of mind so that your loved one with a disability can improve their quality of life. Here are several tips you can use for making a home wheelchair accessible.
Wheelchair Accessibility
Making a home wheelchair accessible is a high priority if you're a caregiver of someone with disabilities. The first place you may want to start is with the access control systems in your home. Threshold ramps at entrance doors and the garage can make getting in and out of the home easier for running errands and making doctor and dental treatment appointments. Inspect your home for any obstacles that may interfere with wheelchair use. Before making any modifications, consider your overall budget and focus on the biggest renovations first.
When making your home wheelchair accessible, there are certain guidelines set forth by the Americans with Disabilities Act that you may want to follow. These guidelines set forth how modifications should be made to allow for convenient access to home features. For example, kitchen countertops should be anywhere from 28 to 34 inches in height for a wheelchair-bound person to be able to use. The minimum width for wheelchair maneuverability is 32 inches in any space. You can find many of these guidelines online to assist you when making modifications to your home.
Homes with built-in wheelchair accessibility modifications can be hard to find in some communities. It took decades of public pushback from California residents in Half Moon Bay to have a community for adults with developmental disabilities. Parents with special needs children often have concerns about what will happen when they pass away due to limited access to housing options for their children. Home modifications are crucial for individuals with disabilities in order to live independently from a caregiver. While home improvement spending increased in 2017 by 14% and continues to rise, many parents can't afford to buy housing plus make renovations for their special needs children.
Approximately 80% of adult children with special needs live with their parents in order to be able to function on a daily basis. Many communities can't afford to provide customized housing for the 4.8 million adults with developmental disabilities in the United States. After struggling with this issue for special needs children with his own family, Jeff Peck founded the Big Wave Housing Project, which creates housing for 63 adults with disabilities. The community also features a cafe, a culinary institute, and other commercial projects specializing in helping those with disabilities to help them become more independent. Jeff Peck hopes that his community project will be able to be replicated across the country.
Making a Home Wheelchair Accessible: The Kitchen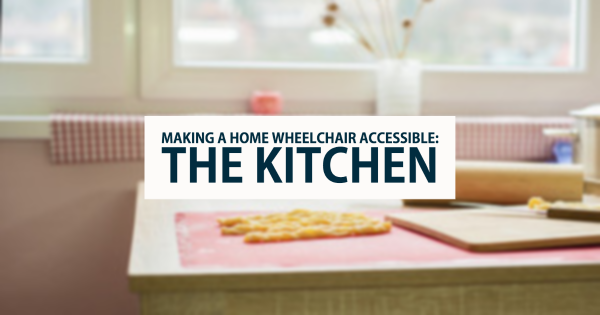 The kitchen is one of the first places inside the home to focus on while making a home wheelchair accessible. You may want to consider carpeting and hardwood flooring options that are wheelchair-friendly. Remove rugs that can potentially snag on the wheelchair. Make sure that light switches and outlets are within reach by placing them midway up the wall or right next to appliances. Smart technology can be installed to control lighting and other kitchen features through a phone app that can be used by an individual with a disability.
You may also want to consider the food counter design when making a home wheelchair accessible. The kitchen countertops should be low enough to reach appliances and use the sink. Pull out shelves from the countertop area can be a great way to create a workspace for food preparation. Kitchen cupboards and appliances should also be designed at a lower level. Bottom cabinets should be removed to create legroom. There should be enough room to be able to move around without running into any obstructions that could cause a safety hazard.
If you have a dishwasher, you may want to raise it up a few inches off the ground to make it easier for a wheelchair-bound person to access. For the kitchen sink, piping can interfere with access and lead to burns from hot water. You can install a drainage system towards the back of the sink to prevent this problem. A single-handed faucet or touch controls can make it easier for washing dishes and kitchen cleanup. Make sure that the water heater is set at a comfortable temperature that can prevent scalding.
Making a Home Wheelchair Accessible: The Bathrooms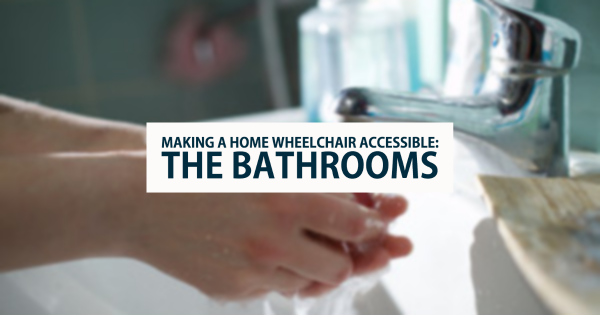 Bathrooms are another important area to focus on when making a home wheelchair accessible. These rooms present many safety obstacles and hazards for individuals in wheelchairs. Since these areas are typically narrow, they don't allow easy maneuverability. Wet floors can cause potential falls and tubs and showers can be hard to enter and exit. Consider installing slip-resistant surfaces for the floors and shower area.
You may want to have a shower that is wide enough for a rolling or fixed shower seat. Make sure the floor around the shower doesn't have a raised lip that can cause someone to trip and fall. If a person is using a transfer seat, the shower opening should be at least 36 inches wide for convenient access. It should be 60 inches wide for someone in a wheelchair. Anti-scald mixing valves may be installed to help maintain a safe water temperature to prevent accidental burns from changes in water pressure.
Install handrails near the tub and toilet to help provide stability and balance. You can also widen the doorway if necessary to make it easier for the wheelchair to get through. When making a home wheelchair accessible, consider if you will need additional storage in your bathroom for medical supplies and equipment. Make sure that countertops and cabinets can be reached from a seated position. Replace the doorknobs in all the rooms of your home including the bathroom with push and pull bars or press lever handles.
Making a Home Wheelchair Accessible: The Bedroom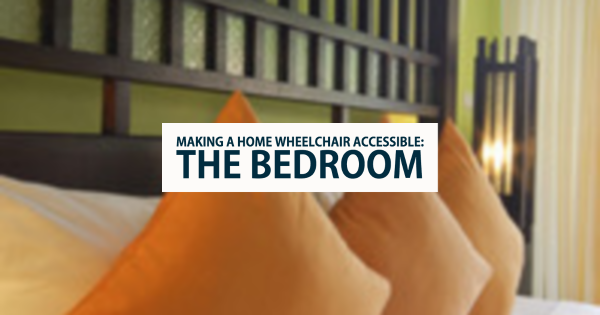 By creating wheelchair accessibility in your home, it can make life easier for your loved one. Consider the layout of bedroom furniture to make it easy for a wheelchair to maneuver around the room. Lower closet rods to a height of around two feet from the ground to make it easier to reach clothes. Consider installing sliding doors for closets to make it easier to access with a wheelchair. A bed lift and grab bars placed throughout the bedroom can provide safety and stability to prevent accidental falls.
If the bedrooms in your home are on the second floor, a stair lift can help remove a number of potential obstacles. For example, 12 year old Hallie Cheng in Edmonton became paralyzed with a spinal cord injury after going over a waterfall when she and her family went hiking. For months, Hallie had to sleep in the living room and shower at a local pool. She couldn't access her bedroom with the wheelchair because it wasn't safe to move her and the wheelchair up and downstairs everyday. Getting in and out of a bathtub or small shower is incredibly difficult without assistance from others when you're confined to a wheelchair.
Volunteers chipped in to make wheelchair renovations to the family's two-story home through funds raised by Crowdfunding. Over a period of two weeks, they were able to install new bedroom flooring and a chairlift and renovated the bathroom. Hallie no longer has to worry about blocking out the light with custom window coverings just so she can sleep at night. She is now able to enjoy a sense of normalcy that she hasn't had since her accident. She can use the chairlift to sleep soundly in her own bed and take private showers, which greatly enhances her independence and self esteem.
Making Your Garage and Vehicle Wheelchair Accessible
When thinking about making a home wheelchair accessible, it's important to include your garage and vehicle in your modification plans. The garage may need to be wide enough for a handicap accessible van with a wheelchair ramp. If you don't have this type of van, you may want to get a car access device to make it easier for a person in a wheelchair to get in and out of the vehicle. If there are stairs leading to the home, you may want to replace them with a ramp. Consider having a large awning installed by a local awning company over the ramp for protection in harsh weather conditions.
Make sure you have an automatic garage door or that the controls are within easy access of someone in the position of a wheelchair. Ensure that there is adequate lighting for visibility, especially at night. You may want to consider motion sensor lighting for safety. If you are storing equipment, storage cabinets should be at an accessible height. When making any extensive modifications, check with your local city government about building code regulations. You may need to get special permits before any renovation work can begin.
With the limited space in a garage due to wheelchair accessibility, you may want to look at various ways to maximize storage space. Have the ramp built to allow storage space. Build a workbench that is attached to the wall that can be folded up when not in use. Use the wall space to mount equipment that may take up a lot of floor space. A pulley system powered by an electric winch can allow you to move around and store extra wheelchairs and adaptive bikes when not in use.
Resources to Learn More About Government Funded Grants
Many individuals with disabilities can't afford to pay out-of-pocket when making a home wheelchair accessible. There are government-funded grants that are available to help those in need to make necessary home modifications. Many individuals with disabilities are often low-income, which can make it easy to be eligible to receive funding. If you apply for a home modification through government grants, the program may require a home assessment regarding disability needs. You may wish to consult with a Social Security disability attorney to review documentation before signing any applications.
You may want to check if there are property tax credits on home modifications for disabilities. The amount of property taxes you pay can be reduced by the amount you spend on eligible improvements. There are various directories of home modification programs for people with disabilities that you can find online. Special funding for making a home wheelchair accessible is available for veterans who meet certain eligibility requirements. Medicaid Waiver programs also pay for home modifications for low-income individuals. If you are receiving disability benefits, you may want to contact Social Security disability advocates about home modification programs in your local area.
Many private nonprofits and advocacy groups offer funding for home improvements. You can contact your local agency on aging or chamber of commerce to locate these sources. If for some reason you can't qualify to receive a government grant, there are other ways you can finance home modifications at a low cost. A rehabilitation loan through the Federal Housing Administration may be a good option for you to consider. Several lenders provide renovation mortgages with low interest rates that can help you pay for home modifications.
There are many things to consider when making a home wheelchair accessible. Making these modifications doesn't have to feel overwhelming. There are many resources to give you the assistance you need. These home modifications can help individuals achieve independence and a better quality of life. Reach out to local community programs about any financial resources that may be available. You can achieve peace of mind for both you and your loved one knowing that they have everything they need in a home to have a successful and enjoyable life.