As the pandemic continues to affect the country, many families are forced to work and go to school while at home. With the continual health safety issues, it doesn't look like school will go back to normal anytime soon. If you haven't done so already, you may want to set up a permanent dedicated space in your home for your child's education. There are numerous ways you can tackle homeschooling to help minimize frustrations and achieve success. Here are six tips for setting up a classroom at home for online learning.
Choose a Room With Good Lighting and Comfortable Seating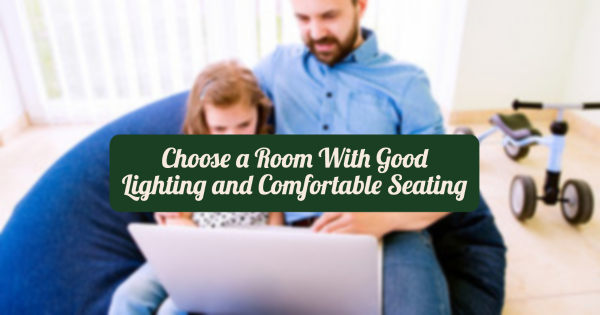 When setting up a classroom at home, it's important to choose a room that has comfortable seating and good lighting. You may want to have your child's work area in one of the main common areas of your home so you can easily monitor their activities to make sure they get their schoolwork done. If you want, you can do a bit of living room or kitchen remodeling to help carve out a dedicated space. You can also use multiple areas of your home for different learning purposes. For example, you may want to use the kitchen table for younger children to do hands-on activities and a quiet bedroom for video watching.
Your child will be spending hours in the same spot, so you may want to make sure they're comfortable. Consider purchasing a gaming chair that has built-in ergonomic features to prevent back strain. Ensure that your children's feet can plant firmly on the floor and use pillows for extra comfort. Your child will also need a sturdy desk that puts their computer at eye-level height to reduce neck straining and wrist pain. Make sure that there is plenty of lighting. You can use task lamps with LED lighting to help reduce eyestrain.
You may also want to think about interior design elements when setting up a classroom at home. Hardwood floors with plush rugs can help keep noise to a minimum. Choose colors for the walls that are ideal for studying, such as a calming blue or relaxing green. You can also add relaxing elements such as plants and candles in areas where older children are studying. Make sure the temperature of the room is comfortable and there are no cold drafts seeping in through the windows.
Ask about what technology integration in schools your children are going to that are being used and what you'll need when setting up a classroom at home. Test the audio and video on the virtual platform to make sure it's working correctly before using. Set up parental controls on electronic devices to restrict access to inappropriate Internet content and to limit access to certain apps during learning periods. Have your child practice logging in and using web conferencing software so they can be comfortable with it before school starts. Make sure electronic equipment receives adequate air circulation and away from direct sunlight that can cause damage.
Limit Distractions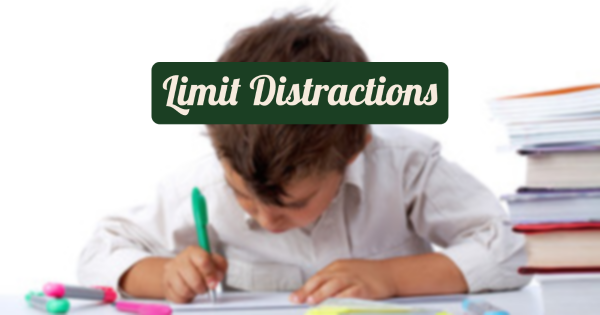 To give your child the best learning environment, the area where you are setting up a classroom at home should be free from distractions. If you have more than one child at home, you may want to set them up in different rooms. Make sure any electronic devices other than their computer are turned off while they're learning. Noise-canceling headphones can be beneficial or blocking out any distractions from household activity. Make sure the work area is clean and well-organized so your child can focus on the task at hand.
If your child needs some background noise, you can try playing instrumental or classical music. Close window blinds to eliminate glare from the sun on the computer screen. You can use color-coded signage to communicate with your child about when you can interrupt their learning time. For example, red-colored paper can signify it's time to focus without distractions and green can mean it's okay to talk. You may want to offer your child a light snack before they start their studies to avoid getting distracted by hunger.
Encourage your child to take frequent 15-minute breaks throughout the day to stretch, play, or eat. This can give them enough time to recharge so that they can focus on their schoolwork once their break is over. It can be helpful if you can match difficult school tasks with energy levels. For example, a child who struggles every morning with math may be able to better focus if the studies were done at night. Ensure that your child gets plenty of rest each night so that sleepiness doesn't become a distraction.
Provide At-Home Class Replacements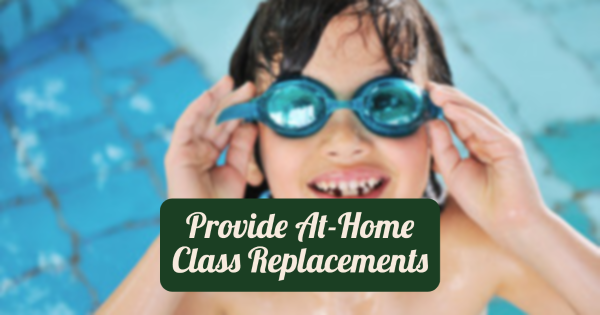 Setting up a classroom at home doesn't have to be limited to a space within four walls. There are alternative ways to give your children real-world learning experiences beyond their computer screens. Your children can learn how to use the BBQ grill to upgrade their home economics skills. You can show your child how to manage a household budget or how to save money on home improvement spending, which went up in 2017 by 14% alone. Explore different careers that utilize the information your child is currently using in their studies.
Utilize pool opening services to help your children practice swimming lessons at home. Try different sports or take family walks as part of their physical education. Go to local museums and check out art exhibits. Start a vegetable garden in your backyard or indoors. Pick out a few good books to read from your local library or play board games together as a family.
Create something new with arts and crafts or modeling kits. Volunteer to do something nice for someone in your neighborhood. Write letters to elderly residents in nursing homes who can't have visitors during the pandemic. Have your child learn how to play a musical instrument, paint, or draw. Perform scientific experiments at home.
Real-world social interactions with peers are also crucial for your child's educational development. If you have only one child at home, the inability to be able to play with other children could affect their academic performance. You may want to find homeschooling groups in your area that can introduce your child to multiple types of learning experiences. They can meet children of different cultural backgrounds that can end up as study partners or friends for life. It can also be helpful to you as a parent because you can get support and assistance with tutoring in subjects you may struggle with yourself.
Make Room for Adult-to-Kid Interactions So High School Students Get Real-Life Learning Opportunities
One of the biggest advantages of setting up a classroom at home is it gives the opportunity for adults and students to interact and learn together. This can be beneficial for both to improve their overall quality of life. For example, a high school student can help an older adult navigate the Internet to figure out Medicare enrollment or learn how to download and use apps on their phone. Pick something that you and your child know little information about and become experts on the subject by researching together. Begin teaching your child how to handle adult responsibilities such as budgeting, paying bills, and investing.
You can introduce your child to professionals in your community for real-life learning opportunities. Take your child with you when you visit your financial advisor to discuss your retirement plan. Invite guest speakers like journalists and computer programmers who are using the skills in their career that your child is currently learning. Have your child interview family members about what they do for a living and shadow them at their work, if possible. Volunteer at a local nonprofit organization in your local community to give your high school student experience in interacting with the real world.
Real world learning opportunities help children become more engaged in what they're learning. It allows children to get a clearer picture of why it's important to learn it and how it can be beneficial to them. If you can't introduce your children to other adults, you can still give them the benefits of real-world application. For example, explore current news stories and events of people making an impact. Have your children pretend different career choices with real-life scenarios.
Add Educational and Motivational Wall Hangings
You can personalize the space for your child when setting up a classroom at home by hanging up educational and motivational posters and paintings. Posters and paintings can help make an environment more pleasant for learning. Make the space even more enjoyable by pretending it's a children's museum. Let your children put up their own drawings and other art projects on display in the space. Use motivational posters to encourage them when their studies get tough or to be read as a positive start to each day.
Educational posters can help children master difficult subjects by reinforcing difficult subject matter through continual visual cues to remind them. Approximately 85% of people around the world find learning to be more effective when information is transmitted visually. Having your children create these visual reminders can help make learning even easier. You can use posters to remind children of learning and behavioral expectations or to enforce safety. You can create reminders to wash hands after certain activities or warn about potential health hazards that can cause physical injury.
Posters can also be used to give your child the opportunity to share what they have learned each day. They can write down one thing from each subject onto individual Post-It notes to stick onto the poster. This creates a fascinating collage of your child's educational experience each week. You can use posters in group collaboration projects for multiple children for brainstorming and problem-solving. Art paintings can be used to help teach history or inspire creative writing.
Create a Calendar and a Schedule for Your Family to Follow
Creating a schedule when setting up a classroom at home can help reduce stress for everyone in the family. Create a calendar of daily activities so kids can know what to expect. This can be a visual to-do list with pictures for younger children or Kanban boards for older students. Make time for school activities and breaks for fun family activities such as looking at snowmobiles for sale and playing outside together in the fresh air. Have a daily routine for getting ready for school in the morning instead of staying in their pajamas all day.
There may be times when your child may need a learning space outside of setting up a classroom at home. There may be times when your family needs to travel or take care of other obligations away from home. Many adults have mobile offices to work in, and your child can have one too. Set up storage totes with all your child's educational materials that you can easily grab and take with you when you have to be on the go. You can also use backpacks just like your child used while going to school before the pandemic.
You can also use a schedule to help identify and resolve common homeschooling problems that pop up during the week. Write down every family member's daily activities on one calendar and notice what times cause the most conflict. You may be able to restructure activities to eliminate issues related to hunger, stress, or fatigue. Brainstorm what you would like to have for your family in terms of work-life balance. Tweak the schedule as you notice problems arising throughout the week.
Setting up a classroom at home doesn't have to be complicated. While virtual schooling may seem tough at first, over time your family will be able to adapt and settle into a routine that works for everyone. Use these tips to enhance your child's education while learning from home. Virtual schooling may be here to stay on a long-term basis, so you might as well make the best of it. Get started setting up a classroom at home for your child today!